I haven't really wanted to nest lately. Sadly. Fearfully. What does that mean? Probably that I'm just busy and can't bring myself to go out and spend any money to cutesy up the baby room. So today we're hanging out at home all day after B gets home from church. I'm taking this time to search around the web for some more cute, affordable things to include in the nursery, and I'm hoping to hit up some thrift stores this week. (Anyone wanna make a trip to SLC with me? ;)) I've hit a sort of creative block with the nursery and keep talking myself down about it. "It doesn't have to be cool....he doesn't need anything, blah, blah, blah." Yes, that's all true, but I think I'd enjoy the next three months more and work through this ridiculous anticipation by staying busy making a little Hobbit hole for my
little
boy. Also, I've always stood my the conviction that a house becomes a home when creativity is encouraged and present. God placed Adam and Eve in the most creative, colorful, expressive garden that ever has been planted in history. That was the home
He
made for them before sin came and made homemaking more of a chore. I want to encourage the same sort of environment for my little ones, so they know God IS a creative God, and He has made us creative to reflect His image. (These thoughts and more were encouraged when I read
The Hidden Art of Homemaking
which I've mentioned before.)
While searching on Etsy, I found
this
adorable shop! I love all these prints!! How could I decide on just one? :)
This was the first one I came across. It has all the little animals I'm trying to incorporate (but still haven't?). But look at the others! Aren't they darling? Very earthy, yet creative and storybook-like. They sort of remind me of Where the Wild Things Are.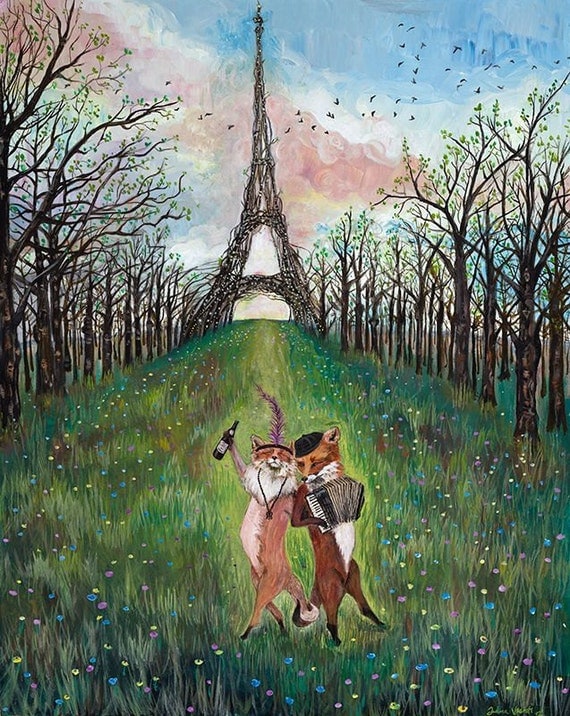 Ahhhhhh!!! Foxes AND France? Oh my!
Hopefully my creative juices are being stirred. Have a relaxing Sunday afternoon!
xoxo